With offices in over 20 countries around the world, F5 offers many different attractive work environments. Here's a sampling of cities that just might be the perfect match for you and a new job with F5.
Seattle is an outstanding place to live, work, and play. At our corporate headquarters in the heart of the city, F5 employees enjoy views of snow-capped mountains and the glistening waters of Puget Sound. At lunchtime, they can hop a bus, or walk, to Seattle's world famous Pike Place Market.
The Seattle office is home to our flagship load balancing product, BIG-IP. The innovative, award-winning BIG-IP device delivers high availability, improved performance, application security, and access control-all in one unit. It's also extraordinarily flexible and configurable.
At our Seattle office, we recruit software engineers, testers, and support engineers, as well as non-technical operational and sales positions such as accountants, office administrators, and sales managers.
The newly expanded F5 Hardware Development Center is located in Liberty Lake, just a few minutes outside of Spokane. Here on the woodsy Washington/Idaho border, F5 employees enjoy fresh mountain air and a noticeable absence of traffic congestion. The Spokane area boasts over seventy lakes and hundreds of miles of bike and hiking trails. There's also plenty of nearby skiing, snowboarding, backpacking, and other outdoor activities.
F5's Spokane (Liberty Lake) office is devoted to hardware platform development, technical support management, and network support engineers. Our team there designs systems that are purpose built to maximize value to our customers. These systems are a combination of networking, computer design, and ASIC/FPGA.
In developing these platforms we employ many of the engineering disciplines. So we're always on the lookout for talented electrical/computer engineers, ASIC/FPGA engineers, mechanical engineers, software engineers (low level firmware and driver development) and manufacturing test engineers.
We probably don't need to tell you that San Jose is home to the largest concentration of technology expertise in the world-more than 6,600 technology companies employing some 245,000 people. Nicknamed the Capital of Silicon Valley, San Jose is a city that both works hard and plays hard. It also gets lots of sunshine and is appealingly close to San Francisco, the Napa-Sonoma wine country, the Monterey Coast, and Lake Tahoe.
F5's newly remodeled San Jose office, easily accessible by local transit, is located in the heart of San Jose, near the upscale Santana Row shopping district (Northern California's answer to Rodeo Drive). We're proud to say our sales and marketing presence is growing in this region as our core production development team works on emerging markets in application acceleration, virtualization, and security. Specific technologies we focus on are next-generation application networking and security, algorithmic optimizations, data center virtualization, emerging remote access security models, XML/SOAP switching, and advanced threat management systems.
If you're an engineer with experience in one or more of the above disciplines, view our Job Openings page for current listings.
Lowell, MA
Lowell and its surrounding communities are a great place to live and work. Just twenty-five miles from Boston, it's an easy reverse commute to Lowell. Lowell is also close to the White Mountains of New Hampshire, which are famous for both their breathtaking fall foliage and their recreational opportunities-including camping, hiking, boating, and skiing.
Our Lowell office is home base for our industry leading file virtualization product development team working on the award-winning ARX product suite. F5's ARX virtualization products are the undisputed market leaders in the rapidly growing file virtualization market. Key technologies we focus on include virtualization, file systems, remote file access protocols (NFS & CIFS), IP networking, Linux systems programming, XML/Soap, C++, and Java.
Our ARX® products integrate seamlessly into existing Network Attached Storage (NAS), Windows®, UNIX® and Linux environments. These devices provide industry-leading scalability, performance, and reliability, and are specifically designed to meet the needs of enterprise storage environments.
If you've got the chops for file virtualization, we should probably talk.
Chertsey, UK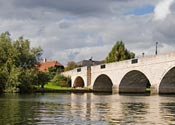 Chertsey is approximately 25 miles from Central London and is home to F5's headquarters for the EMEA region. Chertsey is accessible via excellent road and rail links and it is located in close proximity to London's Heathrow Airport.
About 70 employees are permanently based in the Chertsey office, including the EMEA management team as well as the EMEA professional services, finance, inside sales, and human resources teams. The EMEA technical support team, which is part of the global team offering around-the-clock support to F5 customers, is also based in Chertsey.
The largest F5 site in Europe, the Chertsey office offers excellent facilities for employees and an outstanding team environment. To see if your skills match our available positions, view our current job openings.
Singapore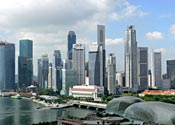 The Singapore office is F5's operations hub for the APAC region, conveniently located in Suntec City in Singapore's Central Business District. Also known as Asia's Vertical Silicon Valley, Suntec City's high-rise office towers are home to most of the area's major IT firms and close to the banking hub and popular retail malls. Transportation is readily accessible via Mass Rapid Transit (MRT) trains, buses, and highways, and the international airport is just 20 minutes away.
F5's Singapore office houses the APAC regional headquarters team of sales, marketing, IT, HR, finance & accounting, professional services support, and technical support, including a Level 1 and 2 Call Center of network engineers and enterprise network engineers. This team supports the strategic growth of the 11 countries where F5 has offices in the APAC region: Singapore, Malaysia, India, Indonesia, Thailand, Korea, Taiwan, Hong Kong, China, Australia, and New Zealand.
If you're interested in joining this dynamic, innovative, and team-oriented organization, view our job available openings.
Tokyo, Japan
F5 Japan office is located in Akasaka, Tokyo. Akasaka is one of Tokyo's central business districts as well as a center of politics and home to the imperial residence. F5 Japan's top-floor offices boast views of Mount Fuji, Japan's highest peak, and offer easy access to Shibuya and Roppongi, areas popular for shopping, restaurants, and night life.
F5's Japan office is composed of sales, marketing, professional services, and a technical support center and works to provide high quality Application Delivery Networking solutions for the IT industry in Japan. If you have experience in any of the above areas and would like to be part of our team, view our available job openings.
The second-largest city in Israel, Tel Aviv is a cultural and economic hub. Known as "The City That Never Sleeps," this growing, energetic, and cosmopolitan city is bordered to the west by the Mediterranean Sea. The stunning beaches, trendy restaurants and bars, thriving nightlife, shops, and historic neighborhoods attract tourists and young people.
With its many museums, art galleries, performing arts, markets, shopping malls, and sports events, there is never of a lack of entertainment in Tel Aviv. For kids, there are many amusement parks and waterparks. The city also hosts festivals and events almost every weekend. Tel Aviv is more liberal than many cities in the Middle East, and it puts on the largest gay pride parade in Israel.
Popular daytrips from Tel Aviv include exploring historical sites at Jerusalem and Bethlehem, relaxing in the mineral-rich Dead Sea, and sightseeing in the beautiful hills and valleys around Golan Heights.