The use of domain names and TLS certificates that include your organisation's brand or product name is a common way to make links in phishing emails appear legitimate. Keeping an eye on DNS and certificate registrations can help you gauge whether attackers have begun targeting your customers. This article in the "Fighting Back against Phishing and Fraud" series examines certificate transparency and how it can help alert you to fraudulently registered TLS certificates. If you missed Part 1, click here.
Why Do We Need to Monitor Domains and Certificates?
In the spirit of "it's not a bug, it's a feature," today's public key infrastructure (PKI) lets us create a TLS certificate for a domain name we control from any certificate authority (CA). By way of an example, this means that DigiCert, Comodo, and Let's Encrypt, to name just three popular CAs, are all able to create a certificate for paypal.com. This flexibility encourages competition among CAs to offer more features and lower prices to consumers. But it also makes the system prone to abuse—and confusing for website visitors. Should I, for example, trust the paypal.com certificate that was created by DigiCert or Let's Encrypt? Both are cryptographically signed and, therefore, both are totally legitimate. My browser certainly won't complain about either one.
Aside from the confusion this can cause, poor security practises and attacks against CAs themselves have led to situations in which fraudulent certificates are created for domains that look every bit as authentic as a genuine one. In August 2011, it was discovered that Dutch certificate authority DigiNotar suffered a breach, and attackers were able to fraudulently generate a wildcard certificate for *.google.com.1 This allowed the attackers to impersonate virtually any Google property without web browsers displaying the usual warnings about invalid certificates.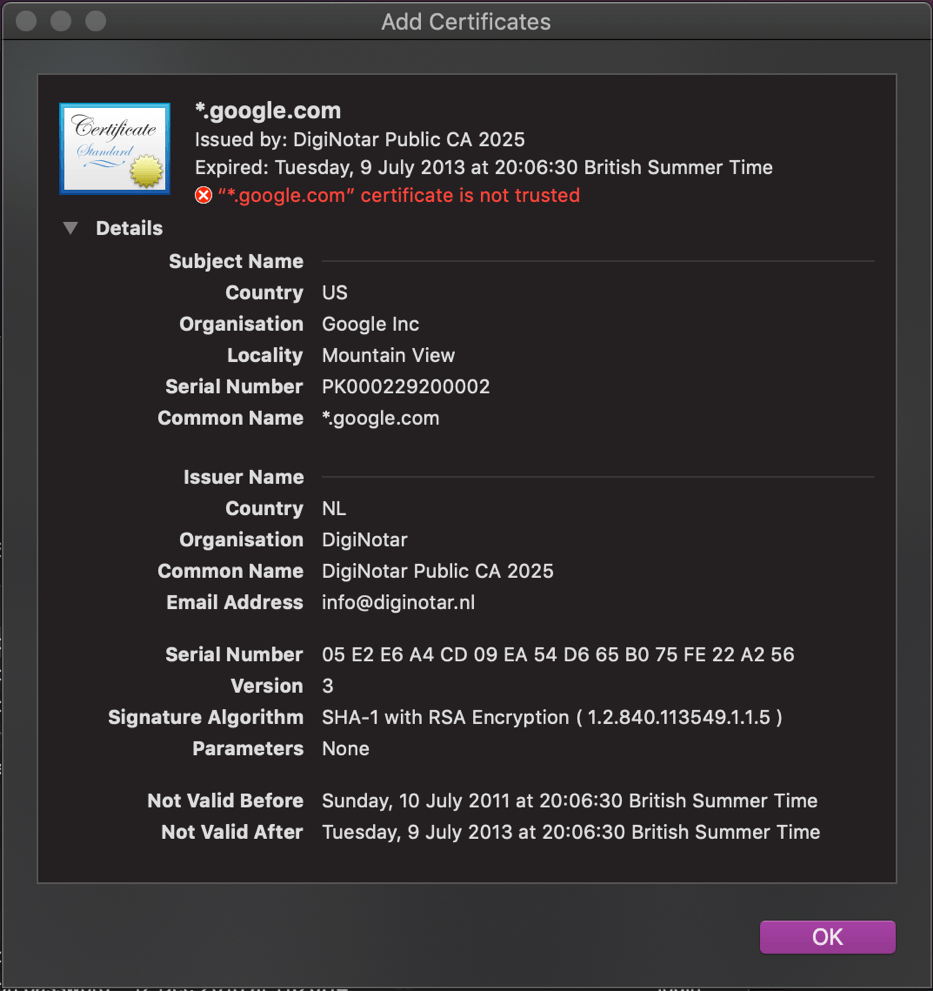 In fact, due to security breaches, a long list of certificate authorities have been ejected from the list of CAs trusted by web browsers, with Symantec being one of the latest casualties.1 Figure 2 shows the number of significant breaches related to PKI and root certificates2 that have occurred over the past two decades.