Introduction
Marcher is an Android banking Trojan, first detected in 2013, that continually evolves to stay active. The longevity and evolution of this malware is not surprising, given that mobile banking malware is the quickest and easiest way to grab money from victims. In fact, the mobile banking malware market is so hot, it grew 400% in 2016, 81% of which targeted Android phones.1 That growth is somewhat expected since Android, with over 24,000 implementations, is the most popular smartphone operating system.2 That is a huge number of devices to test and secure, made more difficult by the fact that most Android phones are behind in critical patches and thus are more vulnerable to attack.3 As with any malware campaign, attackers must continually evolve to evade detection of their C&C servers and keep the cash flowing.
Marcher inspects its infected devices carefully by using a dedicated, hard-coded configuration in each Android Package Kit (APK), Google's file format for distributing and installing application software (like mobile banking apps) on the Android OS. Each APK has the ability to target different financial institutions in specific geographical locations.
F5 research conducted in March 2017 followed 153 Marcher configuration files to uncover target and activity trends in the worldwide attack campaigns. Among the 153 configuration files, 54 distinct command and control (C&C) servers were detected. Of the 54 distinct C&C servers, 12 of them were online and operational (until F5 had them shut down in March), 10 were sink-holed, and 32 were already offline. The remaining 99 C&C servers were duplicated configurations from different APKs. This is likely due to configuration files being hardcoded within the APK, and old spam campaigns infecting different users, thus, old configurations still being detected in the wild.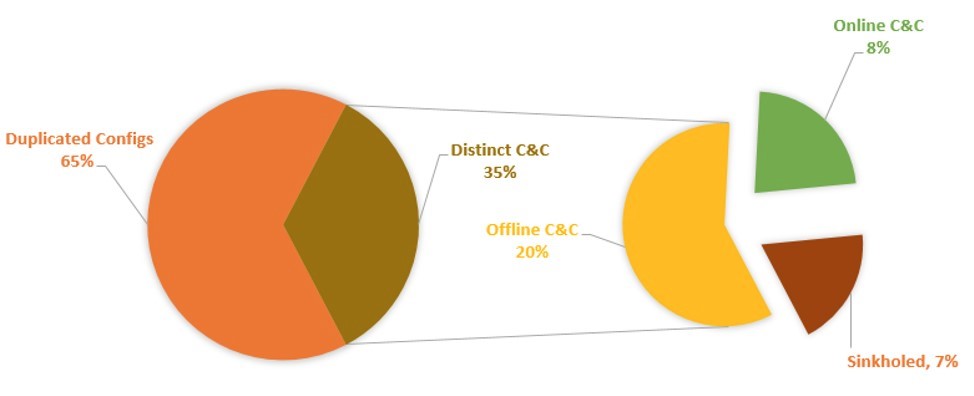 Figure 1: Marcher configuration status (left) and status of distinct C&C servers (right) as of March 2017
Global View of March Targets
Analyzing the newest configuration files, Marcher's March targets primarily focused on banks in Europe, followed by Australia, and then Latin America. Only 2% of targets were in North America. The targets within these regions were all banks, as well as their Android mobile banking apps available for download in the Google Play Store. Australia had one exception where an online classified ad site called Gumtree was targeted. The 7% "Global" are application and platform targets that are used worldwide such as the Android platform, social network companies like Facebook, email providers like Yahoo and Gmail, the WhatsApp and Viber messaging apps, PayPal, and eBay. (See target domain details driving these geographical breakdowns in the Marcher Targets section and Appendix A.)