In previous blogs, we've debated the pros and cons of cryptocurrency, but like it or not, they're a real part of our economy now. That means they're part of our illicit economy, too. F5 Labs has been tracking crypto-mining malware that hijacks a computer's resources in order to create cryptocurrency, but there's a more obvious threat to anyone holding cryptocurrency like Bitcoin or Ethereum. Cryptocurrency can be straight-up stolen from our computers, just like payment card numbers or credentials.
This summer, we released our first annual Application Protection Report which, among other things, took a deep look at data breaches across the US. In 2017, we examined a decade of the most severe breaches. Now seemed like an appropriate time for us to look closely at cryptocurrency breaches.
As the title of this piece implies, we're closing in on a billion dollars' worth of cryptocurrency stolen in 2018—and the year isn't even over yet. It's pretty simple math, starting with the top five: CoinCheck at $520 million,1 followed by BitGrail at $195 million,2 then Zaif for $60 million,3 and CoinRail at $40 million,4 and finally Bancor for $23.5 million.5 That totals $838.5 million dollars. And those are just the major incidents this year. It's completely believable that we could hit a billion dollars in the next month or two.
One of the biggest problems with cryptocurrency is that it's not as heavily regulated as the traditional financial industry. Therefore, we don't see as many mandatory stringent technical and administrative protection measures in place. Security is lax, and there are more fly-by-night operators.6 Worst of all, it is very difficult to reverse cryptocurrency transactions. If you get ripped off, there not much you can do to undo the fraud, and there's no deposit insurance to make you whole. Some cryptocurrency exchanges have covered the loss for some customers. However, once the losses reach the tens of millions, exchanges often close their doors and you're left holding an empty (virtual) bag.
Seven Years of Cryptocurrency Thefts
We looked through the last seven years of major cryptocurrency thefts for this analysis, which totaled 73 cases.7 At the beginning of these incidents (2011), Bitcoin had parity with the US dollar, with a single coin averaging about a buck. Today that same coin is worth over $6,000. Do we see a six-thousand-fold growth in crypto theft? Well, as Figure 1 shows, it's actually closer to double that at a nearly twelve-thousand-fold increase.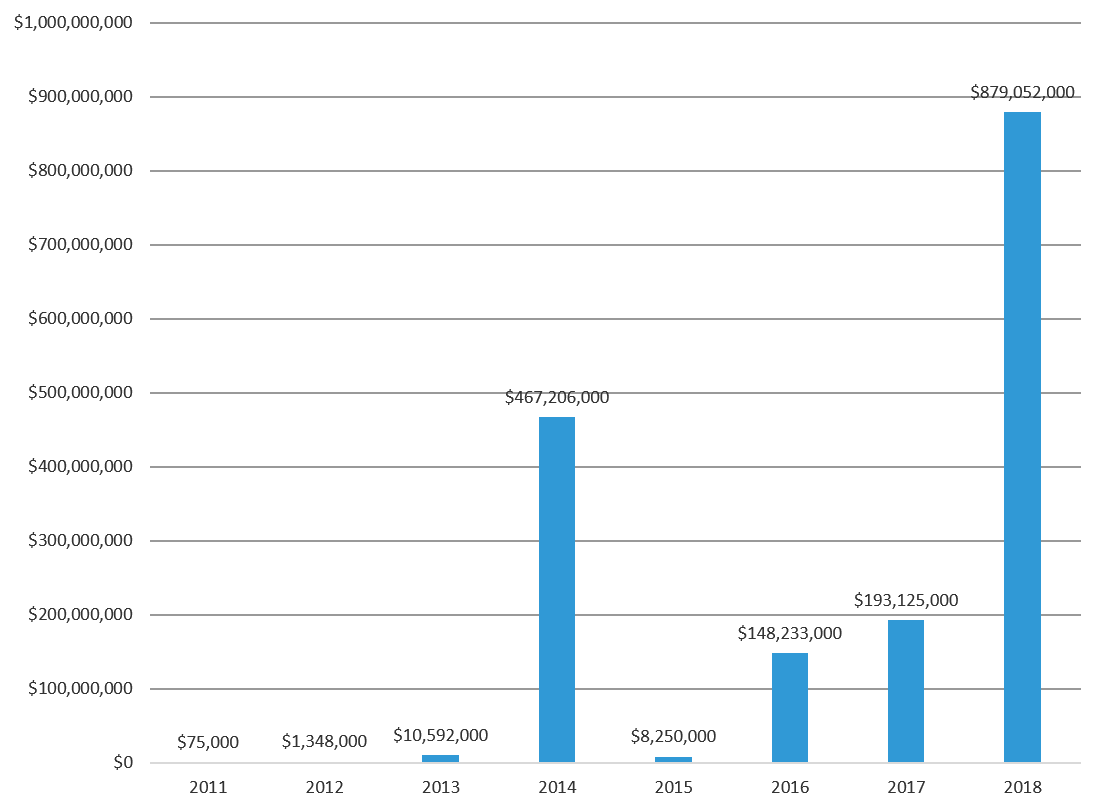 Over the past seven years of cryptocurrency data thefts, we found the average take on an incident was around $31 million. Figure 2 shows the pure number of cryptocurrency theft incidents.