F5 Labs analyzes threats and attacks based on multiple diverse data sources, one being the F5 Security Operations Center (SOC), which provides F5 Silverline DDoS mitigation services to customers and clients. The SOC recently stopped a large DDoS attack that peaked at over 840 Gbps against a financial services institution. The organization shared its data with F5 Labs so we could provide insights into large-scale DDoS attacks. Our analysis showed some interesting data about what a recent large DDoS attack looks like and how it was sourced:
Peak traffic was 840 Gbps.

Clients from 42 different countries experienced the attack.

Attackers used a combination of SYN flooding, RST flooding, UDP reflection, and ICMP flooding.

Client platforms ranged from embedded systems and Windows machines to Linux servers.
Sudden and Large
On Monday, June 21, 2021, at 3:04 AM Coordinated Universal Time (UTC), the SOC detected the start of a large DDoS attack against a target in the financial services industry. During the attack, legitimate traffic pass-through remained at normal levels, about 25 Mbps. At its highest peak, the attack caused 33,599 times the normal amount of traffic.
Eight Minutes and Two Peaks
After the start of the attack, traffic rose rapidly over the next two minutes to the first peak at approximately 400 Gbps. It then fell off to 125 Gbps, until about 3:07 AM UTC, when it ramped up again, sharply, to a second peak of 840 Gbps by 3:10 AM UTC. A minute and a half later, it returned to normal levels (Figure 1).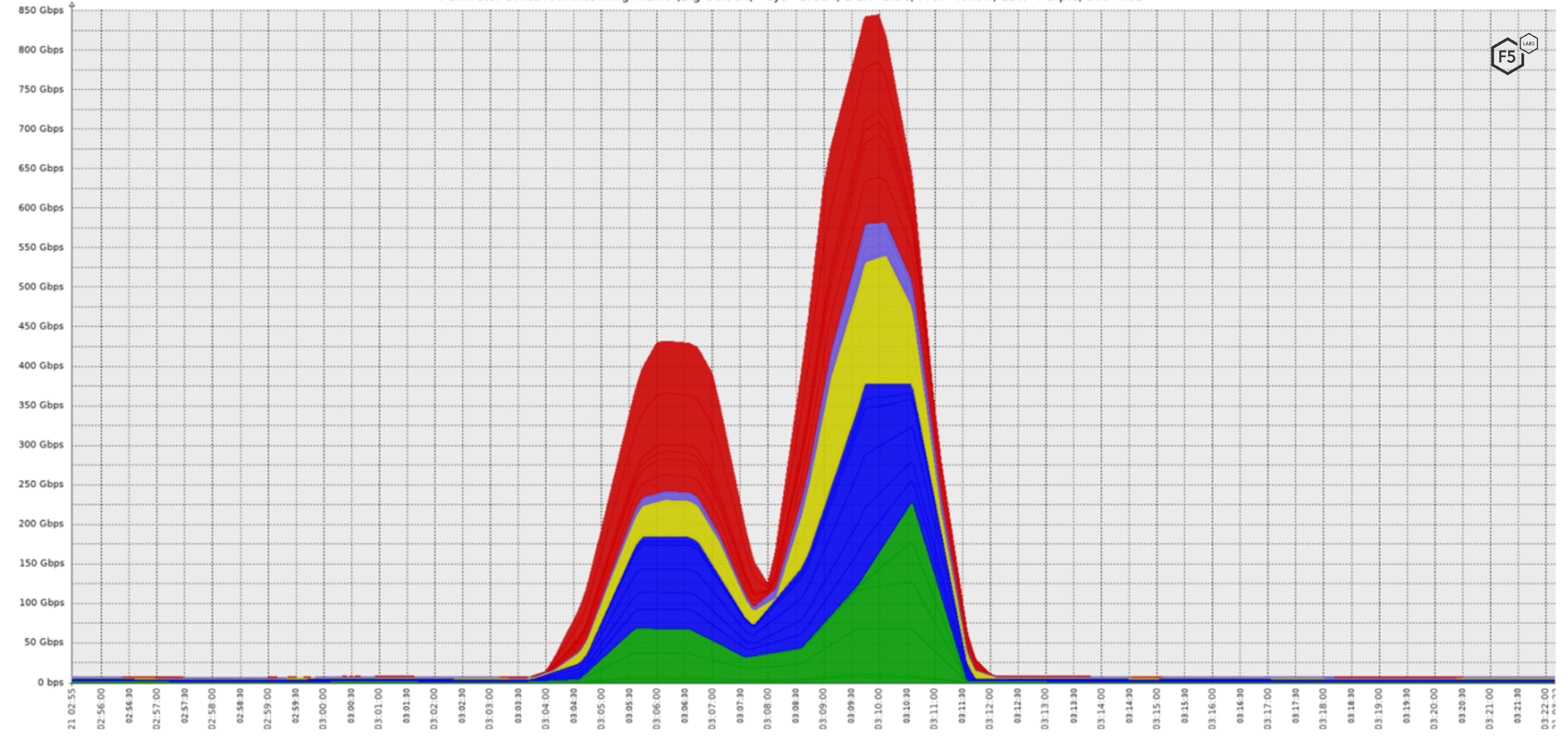 The two peaks appeared to be caused by the attackers targeting the company's domain name, rather than a specific IP address. The customer uses a round robin DNS system with two IP addresses, each with a 90-second TTL (time-to-live). As the attackers' DNS resolutions shifted with the round robin, for a brief period both IP addresses were attacked simultaneously, which corresponds to the second peak.
We may speculate that this effect is due to the attackers using tools that were multithreaded, and as the DNS result changed, the number of threads increased, but this is not something we can prove.
Standard Attacks—Just a Lot of Them
The attack traffic was quite pedestrian in its content. Attackers used a combination of TCP and UDP vectors, with TCP vectors including both SYN and RST flooding. UDP vectors were primarily DNS request reflections. Additionally, we observed some ICMP traffic, which the attackers may not have actually generated but was a side effect of the other traffic.
Other than dealing with the scale of the attack, straightforward mitigations were used by the SOC to protect the customer: blocking UDP at the edge network, and using a combination of various TCP flood protections, some purely volume based, some using standard SYN cookie techniques, and some tracking specific client traffic on a per-client basis.
Client Analysis
The attack traffic was observed in several Silverline datacenters around the world. This indicates that the traffic came from many different devices in many different countries and used typical Internet routing to reach the target.
F5 Labs, with the help of Silverline staff, retrieved a small sample of attacking IP addresses to investigate this attack further. While the data set we obtained was quite small (only 282 unique IP addresses) it nevertheless revealed some interesting information. It is important to note that this small data sample was limited to the IP addresses that appeared on specific device logs in Silverline's infrastructure. It is likely that our sample is less than 0.1% of the total number of attacking IP addresses. No data is available for UDP-based traffic, since that traffic was mitigated prior to the network position where this sample was gathered.
In terms of the number of connections these 282 IP addresses showed, the data again is quite limited. We observed 1,304 TCP connections and 680 ICMP connections over the course of the attack time period.
Unity and Diversity
The top 10 countries by total traffic were the United States, China, South Korea, Germany, the Netherlands, Taiwan, Japan, the United Kingdom, Hong Kong, and Australia, which accounted for 80.6% of the traffic observed (Figure 2). These are all countries with robust and modern Internet connectivity.