Distributed Denial-of-service (DDoS) is a persistent threat facing businesses of all types, regardless of geographic location or target market. The tools used to launch distributed DoS (DDoS) are becoming easier to use, while the attacks themselves are becoming more complex—frequently combining many different DDoS methods in one larger assault. This article combines attack data from the F5 Silverline Security Operations Center (SOC) and incidents logged by the F5 Security Incident Response Team (SIRT) to determine how DDoS attacks are changing and their impact on organizations. Before we dive into the details, here's a summary of our findings:
Between January 2020 and March 2021, DDoS attacks increased by 55% and are becoming more complex, with 54% of incidents using multiple attack vectors.

The biggest attack over the past 15 months measured 500 Gbps and used no fewer than five different attack vectors.

The technology sector was the most targeted, receiving 27% of all DDoS attacks over the past 15 months.

Volumetric DDoS accounted for 73% of all incidents. Specifically, 53% of attacks took advantage of some kind of reflection attack, which leverages other people's vulnerable systems.

Application DDoS jumped to an impressive 16% of all DDoS incidents and accounted for more than 50% of all DDoS-related support cases to the F5 SIRT.
What Do Today's DDoS Attacks Look Like?
Our article on distributed denial-of-service attacks provides a great overview of DDoS attacks and the varying methods and tactics that threat actors employ against their targets. For a brief reminder, Figure 1 shows the three primary methods of performing a DDoS attack: volumetric, protocol, and application.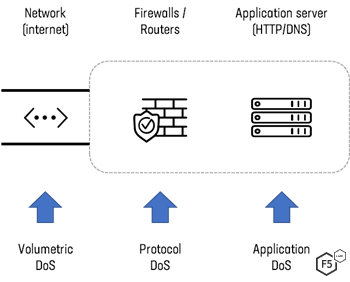 Volumetric DDoS is the most common form of DDoS attack, and the one that most frequently hits the headlines due to ever-increasing sizes. These attacks flood the network with attacker-generated traffic in an attempt to consume all available network bandwidth to the application. The largest attack the F5 SOC team saw and mitigated over the past 15 months peaked at an impressive 500 Gbps.
Protocol DDoS attacks work by filling up connection tables within firewalls or routers so that, while the network itself may not be fully consumed, networking products cannot efficiently handle the number of packets being sent to them.
Application DDoS attacks aim to consume the resources of the "origin" server, whether that be web, DNS, or some other kind of application. Forcing the application to deal with illegitimate requests from the attacker prevents them from dealing with legitimate requests from genuine visitors.
Figure 2 shows the frequency of each type of DDoS attack encountered between January 2020 and March 2021. Over the past 15 months, over 73% of all attacks used volumetric DDoS, while protocol DDoS accounted for 23%. Application attacks saw a sharp increase compared to previous years and are now used in 16% of DDoS attacks. (Note: since the majority of attacks use multiple vectors, percentages will always add up to more than 100%.)
Each DDoS category includes many different attack types, as threat actors look to exploit different layers of the network and application stack. For example, application DDoS includes HTTP, HTTPS, and DNS requests to a server. Volumetric DDoS includes standard UDP flooding, along with many different types of reflection attacks, including NTP and DNS.
Figure 3 shows the distribution of DDoS attack methods the SOC team saw for the 15-month period. At a glance, it's clear that volumetric DDoS attacks are the most common by far. What is not clear from this graph, however, is the actual impact to the application or network.