The Evolution of Ransomware
We've finally reached the boiling point with ransomware attacks. It's gone from being a nuisance to a significant financial burden as well as a mortal threat to our critical infrastructure. In 2017, during worldwide WannaCry attack, F5 Labs raised the possibility of a ransomware infection at a hospital causing a patient's death. It looks like we're finally there.1 In addition, financial damage from ransomware attacks has escalated to hundreds of millions of dollars for some organizations.2
A single ransom demand to decrypt encrypted data can cost millions of dollars.3 But maybe you shouldn't pay? The U.S. Department of the Treasury's Office of Foreign Assets Control (OFAC) has issued an advisory that paying ransomware could constitute illegally providing financial assistance to sanctioned countries like North Korea, Iran, and Russia or to specially designated nationals and blocked persons (SDN).4
In 2019, we talked about how to defend yourself against ransomware. It's 2020, and attackers have improved and strengthened their ransomware capabilities. We're now seeing thousands of ransomware variants, with names like Ryuk, Dreamon, Ragnar Locker, Crysis, RansomEXX, Clop, Netwalker, WastedLocker, Egregor, Netwalker, Nefilim, CryptoMix, Sodinokibi, SymmyWare, and DoppelPaymer.
Ransomware as a Service
Like every other business venture, criminal or not, ransomware has moved from early attacks of opportunity to a full-fledged commodity that's packaged and priced for all comers. It didn't take long to find ransomware as a service (RaaS) advertisements like the one shown in Figure 1.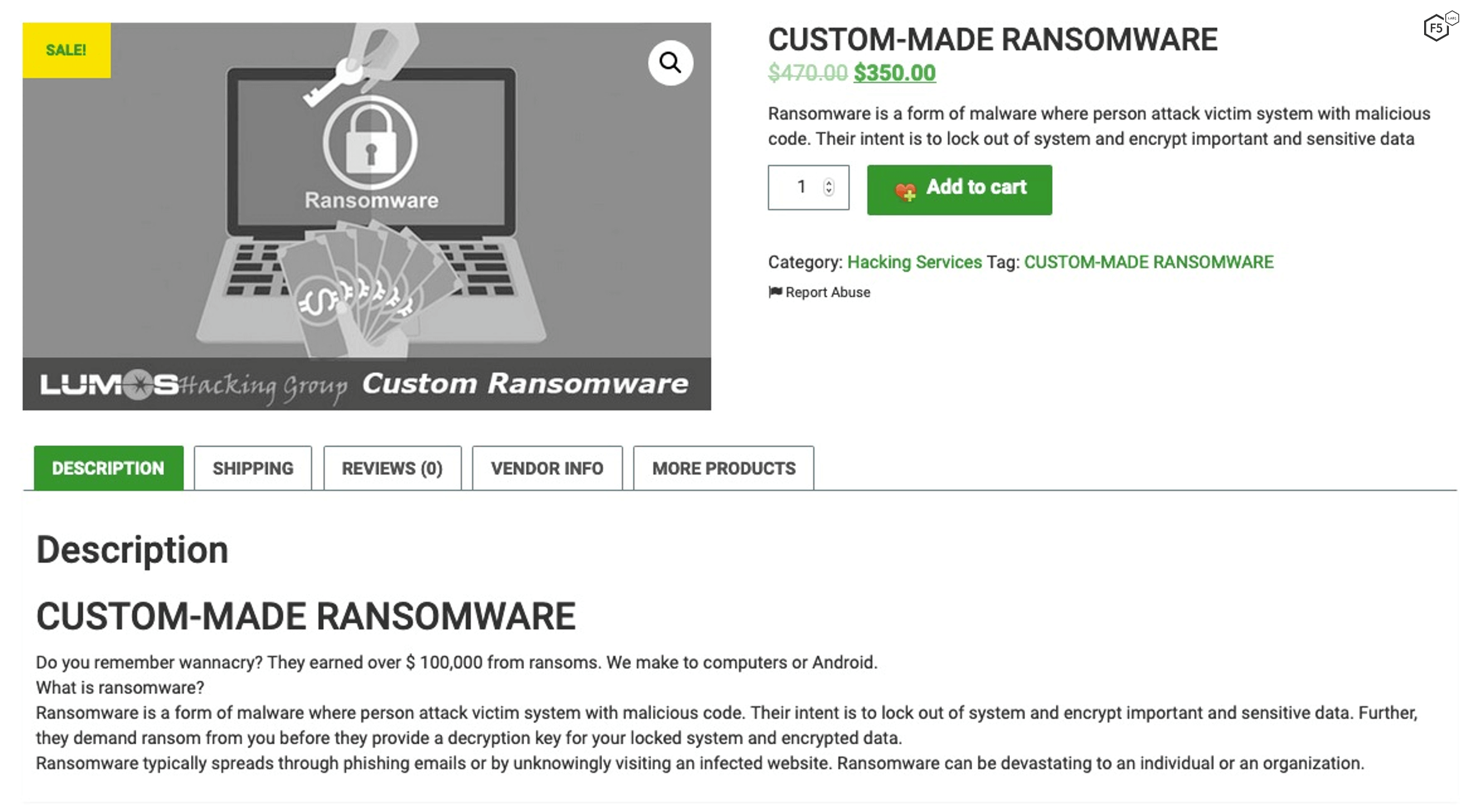 How Ransomware Has Gotten Faster
Someone who's on the frontlines of ransomware attacks is John-Luke Peck, principal consultant and deputy CISO for CI Security, which provides managed incident detection and response. He warns about the lightning speed of a ransomware attack: "Some companies learn about suspicious activity by getting a call from law enforcement one evening, and by the next morning their servers, workstations, and all their disk-to-disk backups were encrypted." Let's dig into how ransomware has changed to strike so quickly.
Smarter Encryption
One way to get faster is to work smarter—finding shortcuts and removing unnecessary steps can save time when seconds count. And it takes a lot of time to encrypt a multigigabyte file using a 4096-bit key with AES-256 encryption. One trick is to skip encrypting large files, hoping the victim doesn't notice or hoping those files aren't as valuable. Another shortcut is to encrypt only part of the file, which is often enough to cause an application-halting error when accessed.
Another timesaver is for the infection to check the physical location where it's running. If the infector sees it's not in a targeted country, it may delete itself and move on. Which countries does it avoid? Some ransomware variants will self-destruct if they think they're within any of the nine Russian Commonwealth of Independent States.
Another way to work smarter is to spread from highly connected internal network nodes, such as Windows domain controllers. Since these kinds of servers interact with a majority of internal systems, they are excellent launching points to spread infections quickly. Figure 2 shows an advertisement for the new Dreamon malware with many of these features.