Intro
In Episode 2 of our 2019 Application Report, we found that two attack methods dominated the reports of successful attacks resulting in breaches.1 We unpacked the details of one of those methods, web injection, in Episode 3. Here we explore the other attack method that is responsible for the bulk of breaches: attacks against the access tier of the application. But first, we need some context on how access attacks fit into the bigger picture.
In day-to-day speech, we still tend to describe the Internet as being composed of "sites." However, web applications, not sites, are really the engines that drive Internet traffic. Webmail, ecommerce, social media, online banking, eLearning, web search, and media streaming all happen through web applications. Unlike static web sites (if any still exist), web applications do not just process requests for existing html files on a server and deliver them; they also accept user input, process it, and return data. Because they transmit and process data, they are also the single most attacked asset on the Internet, and account for a wide range of compromises. Our earlier research showed that applications were the initial targets in 53% of breaches in the past decade.
In examining both the mandatory breach reports from the offices of the U.S. State Attorneys General and incident reports that we gather from F5 customers, we found that in 2018, applications are most often attacked at the access tier (47%). Access tier attacks are any that seek to circumvent the legitimate processes of authentication and authorization that we use to control who gets to use an application, and how they can use it. The result of this kind of attack is a malicious actor gaining entry to a system while impersonating a legitimate user. They then use the legitimate user's authorization to accomplish a malicious goal—usually data exfiltration. Attacks of this nature can be hard to spot because as far as the system is concerned, the attacker appears to be the rightful user.
Access Attacks Recap
Reports of confirmed data breaches published by the U.S. State Attorneys General in 2018 showed that access-related breaches constituted the bulk of successful breaches, as shown in Figure 1.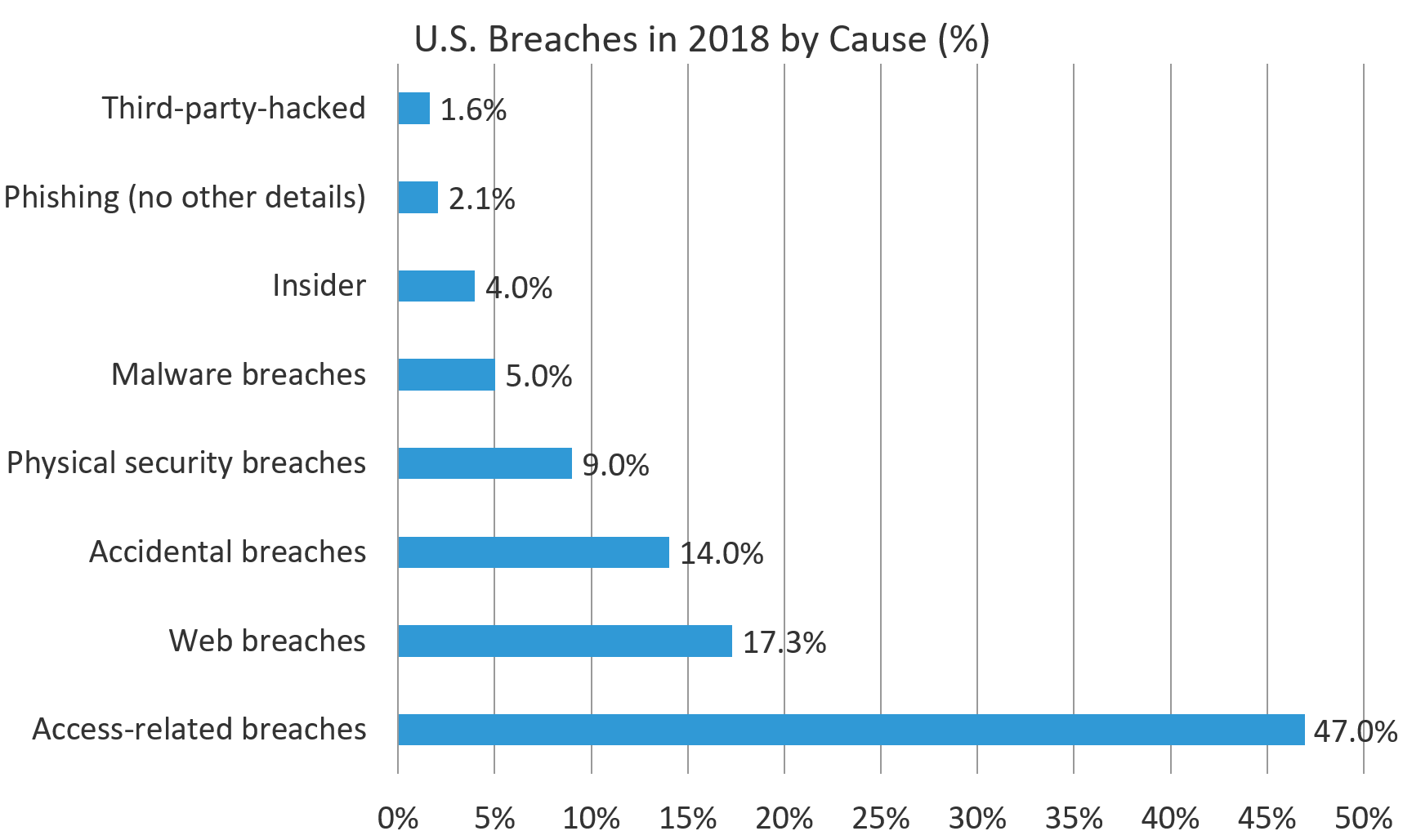 We can further break down the broader category of access attacks into subtypes as shown below in Figure 2.