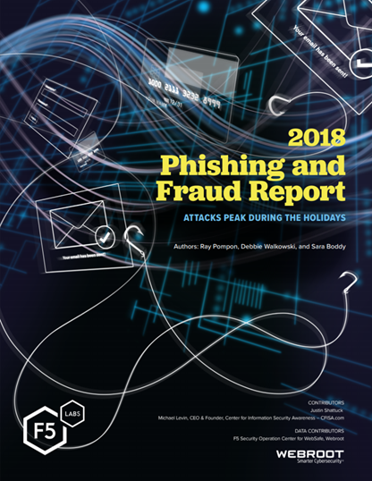 Executive Summary
In November 2017, F5 Labs published an introductory report entitled Phishing: The Secret of its Success and What You Can Do to Stop It. A year later, it should come as no surprise to security professionals that phishing continues to be a top attack vector and, in many cases, is the tried-and-true, go-to initial attack vector in multi-vector attacks. Phishing attacks leading to breaches have been steadily rising for the past two years that F5 Labs has been monitoring breaches. In 2018, we expect phishing attacks to surpass web application attacks to become the number one attack vector leading to a breach.
In this report, we look more specifically at the problem of phishing and fraud that peaks during the so-called "holiday season," beginning in October and continuing through January. Based on data from a variety of sources, including F5's Security Operations Center for Websafe and our data partner Webroot, we look at phishing and fraud trends over a year, the top impersonated companies in phishing attacks by name and industry, the growth rate in phishing attacks, and the fastest growing targets. We looked at how phishing works, the most common and successful phishing lures, what happens when a phishing attack is successful, and what types of malware can be installed.
We analyzed breaches that started with phishing attacks to provide context to the impact of phishing. We also analyzed what percentage of phishing domains leverage encryption to appear more legitimately like the sites they are impersonating, and malware sites that leverage encryption to hide from typical intrusion detection devices. As with most threats, phishing woes can be solved with people, process, and technology, so we close out the report with an extensive list of recommendations to defend your business against phishing and fraud.
Key highlights:
Phishing and fraud season ramps up in October, with incidents jumping over 50% from the annual average, so be on the lookout now, and start warning your employees to do the same. Training employees to recognize phishing attempts can reduce their click-through rate on malicious emails, links, and attachments from 33% to 13%.
Common phishing lures are known and should therefore be a key focus of your security awareness training.
Seventy-one percent of phishing attacks seen from September 1 through October 31, 2018 focused on impersonating 10 top-name organizations, which is good news for your security awareness training programs as you now have a defined list to share with employees. The bad news is, the organizations happen to be the most widely used email, technology, and social media platforms on the Internet, so phishing targets everyone.
With the cloning of legitimate emails from well-known companies, the quality of phishing emails is improving and fooling more unsuspecting victims.
Financial organizations are the fastest growing phishing targets heading into the holiday phishing season, however we expect to see a rise in ecommerce and shipping starting now.
Attackers disguise the malware installed during phishing attacks from traditional traffic inspection devices by phoning home to encrypted sites. Sixty-eight percent of the malware sites active in September and October leverage encryption certificates
Reducing the amount of phishing emails that creep into employee mailboxes is key, but you also need to accept the fact that employees will fall victim to a phishing attack by preparing your organization with containment controls that include web filtering, anti-virus software, and multi-factor authentication.
Introduction
Fall isn't just about gingerbread lattes and holiday feasts. It's also peak season for phishing, when scammers use email, text messages, and fake websites to trick people into giving up their personal information. It's "prime crime time" when phishers and fraudsters creep out of their holes to take advantage of people when they're distracted: businesses are wrapping up end-of-year activities, key staff members are on vacation, and record numbers of online holiday shoppers are searching for the best deals, spending more money than they can afford, looking for last-minute credit, and feeling generous when charities come calling.
Data from the F5 Security Operations Center (SOC), which tracks and shuts down phishing and fraudulent websites for customers, shows that fraud incidents in October, November, and December jump over 50% from the annual average.