App Tiers Affected:
Services
Access
TLS
DNS
Network
F5 Labs attack series education articles help you understand common attacks, how they work, and how to defend against them. 
What is a Trojan?
A trojan is any type of malicious program disguised as a legitimate one. Often, they are designed to steal sensitive information (login credentials, account numbers, financial information, credit card information, and the like) from users.
Trojan malware takes its name from the classic Trojan horse ploy from the war between the Greeks and the independent city of Troy. The ancient Greeks were able to defeat the city of Troy by hiding soldiers inside a giant wooden horse they left behind as a gift while they feigned retreat following a 10-year war. Little did the Trojans realize that by taking the horse as a trophy of war, they were bringing an elite Greek fighting force right inside the walls of their city, ultimately leading to the fall of Troy. A malicious gift thus became known as a Trojan Horse.
A banking trojan operates in much the same way—disguising itself as something good or beneficial to users, but having a far more sinister, hidden purpose. Even a mobile app that appears to serve a genuine purpose (for example, a game, flashlight, or messaging service) can secretly be a trojan looking to steal information. Trojans evade detection by having dormant capabilities, hiding components in other files, forming part of a rootkit, or using heavy obfuscation.
Every individual family of malware has its own "signature moves," and with each iteration, malicious actors grow more sophisticated. Banking trojans are a specific kind of trojan malware. Once installed onto a client machine, banking trojans use a variety of techniques to create botnets, steal credentials, inject malicious code into browsers, or steal money.
How Banking Trojans Began
It took almost 20 years for banking customers to get comfortable with the idea of online banking, which began in the 1980s. With the majority of banks offering online banking by the year 2000, it wasn't long before attackers found ways to exploit this new attack surface using banking malware. Banks were quick to realize that they were attractive targets to attackers, and they responded by hardening their systems. In turn, cybercriminals soon realized that it was difficult to attack the institutions themselves, so they pivoted, targeting customers instead. Stealing customer credentials was a more feasible avenue of attack, and out of this the first banking trojans were created. Banking trojans targeted users primarily through spam, phishing, advertising, drive-by-downloads, or social engineering. They can falsely advertise themselves as attachments or games.
Since then, the scope, technical ability, and focus of the malware authors has changed. What first started as malware that primarily targeted customers of financial institutions evolved to target a range of industries, including online advertisers, digital analytics firms, financial tech companies, social media sites, and communication platforms. Today, banking trojans are pervasive across the Internet, and all sorts of institutions—not just financial institutions—need to be aware of how to protect themselves and their customers.
Speaking the Language
Before we look at specific banking trojans, there's a bit of malware jargon that helps make these descriptions easier to understand:
Malware family. A collection of malware that's produced from the same code base.


Variant. Malware that's built from an existing code base, but with a new signature that is not included in the list of known bad signatures used by anti-virus and anti-malware solutions.


Strain. Another name for a malware variant.


Malware version. Another name for a malware variant.


Descendant. Similar to a variant, descendant refers to malware that's based on an existing code base and integrates different tools or techniques.


Campaign. A series of operations undertaken by malware authors intended to infect a specific set of targets.


Rootkit. Code that targets the lowest level functions of an operating system. It is often used by malware to hide, both from users and from the operating system itself.


Bootkit. Code that targets the operating system when it starts up. It often runs automatically when the system starts.


Dropper. Usually used at the first stage in a malware infection, droppers are designed to install some other kind of malware onto a target system.


Sample. A single example of a malware variant that is studied by engineers to determine characteristics of the malware variant.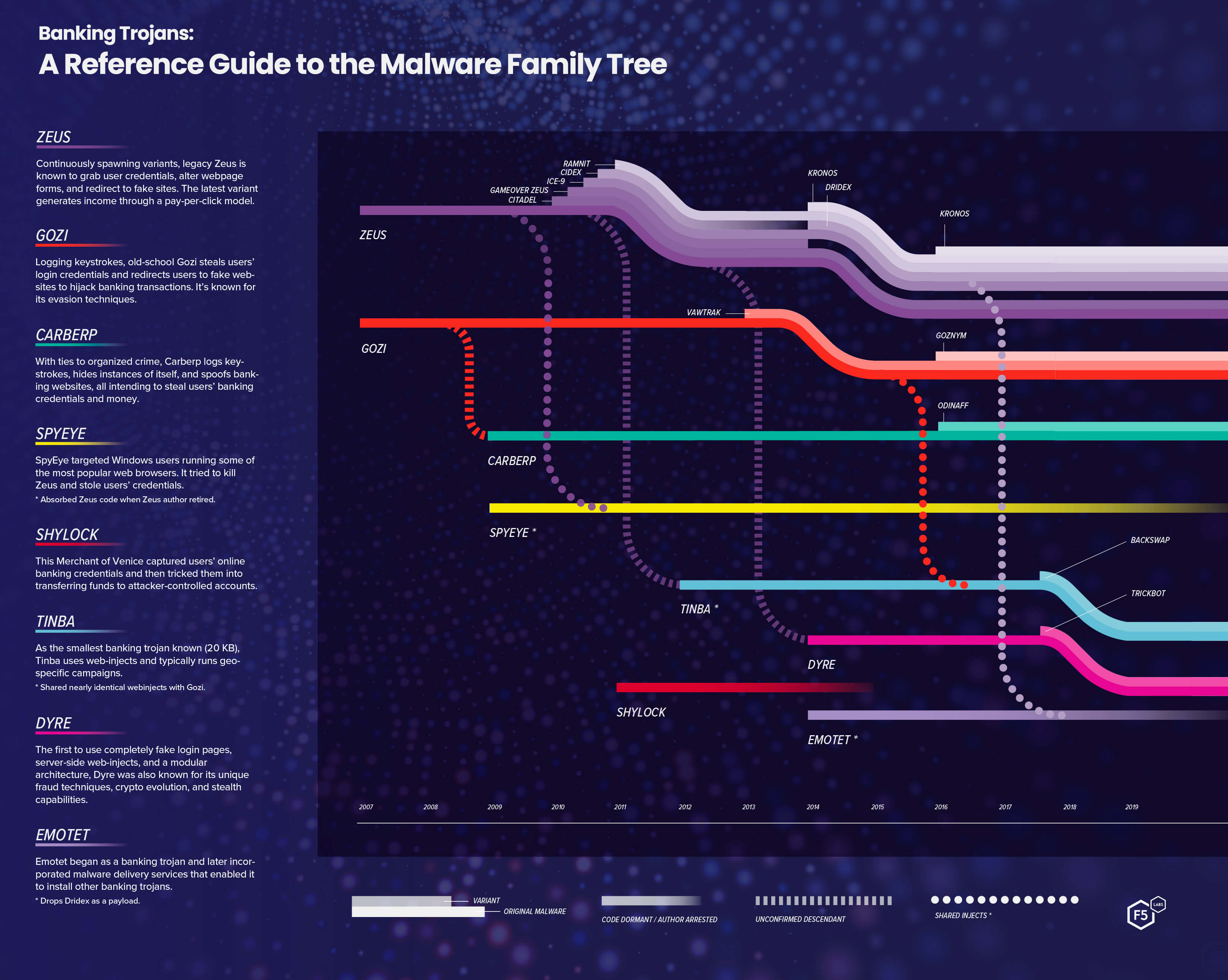 Active and Notable Trojan Banking Malware Families
The number of banking malware families—and strains within those families—is constantly evolving. What follows is not a comprehensive list of all banking trojans, but includes some of the most destructive banking trojan families seen since 2007.
Kronos.

Kronos is known in Greek mythology as the "Father of Zeus." Kronos malware was first discovered in a Russian underground forum in 2014 after the takedown of Gameover Zeus. It was more expensive than many other banking trojans, costing $7,000 to buy outright or $1,000 for a one-week trial. Many other banking trojans could be bought from underground forums for hundreds, not thousands, of dollars. Kronos marketed itself as one of the most sophisticated trojans, and many malware researchers commented that its author(s) clearly had prior knowledge of malware techniques.

35

The code is well obfuscated using many different techniques. Security researchers from Kaspersky Lab postulated that Kronos may be a spin-off of the Carberp banking trojan, The code is well obfuscated using many different techniques. Security researchers from Kaspersky Lab postulated that Kronos may be a spin-off of the Carberp banking trojan,

36

and IBM analysts also connected Kronos to Zeus through its compatible HTML injection mechanism.

37

In August 2017, Marcus Hutchens, the security researcher who single handedly put a halt to the WannaCry ransomware outbreak, was indicted and charged with writing with intent to distribute Kronos malware. In April 2019, Hutchins pled guilty to two of the ten charges laid against him.

38

As of July 26th 2019, Hutchins was sentenced to time served with supervised release.

39

Unlike many other banking trojans, Kronos did not die out with the arrest of a supposed key author. In July 2018, Kronos reemerged with three distinct campaigns targeting Germany, Japan, and Poland. There is also some circumstantial and speculative evidence in the malware research community suggesting that Kronos has been rebranded and is being sold as the Osiris banking trojan.

40

Kronos is still active and continues to be a threat.
Indications of Compromise for Users and Enterprises
While it can be difficult for the average user to detect that their device has been compromised, there are a number of clues to watch for. These clues can also be useful for security professionals managing user systems:
Individuals:
Browsers that load web pages slowly and run sites slowly.
Slow computer start-up and slow performance when nothing else on the system is running could be a sign of a virus or trojan.
A fan that is constantly running or a hard drive that is always spinning could be a sign of an infection.
Suspicious behavior such as a computer suddenly slowing down, opening programs that you didn't open, closing programs repeatedly.
New or unexpected form elements in banking web pages, for example, fields that ask for credit card numbers or PINs.
Failed login attempts the first time you attempt to log in despite the password being entered correctly.
Individuals and enterprises:
Unexpected pop-up windows are often a sign of an infection. Clicking on those pop-ups can install additional malware.
Missing files or users noting that files are missing.
Hijacked email or other accounts.
Anti-virus solutions that stop working.
Applications that take a long time to start or won't start at all.
A computer that is actively doing something when no one is using it.
How Users Can Protect Against Banking Trojans
Keep security, application, and utility software updated.
Use two-actor authentication whenever the option is available.
Only download apps and files from trusted sources.
Use a browser that you trust when doing online shopping and banking.
Use all security features that banks offer.
Use a password manager. Most banking trojans can log keystrokes. By using a password manager to fill in passwords, you avoid physically typing in credentials, which essentially renders a keylogger useless.
Compare your bank's login screen on your computer with the same login screen on someone else's to ensure they look the same.
Use traffic filtering solutions to prevent data leakage.
Take any security awareness training offered by your company or organization.
Learn how to spot phishing emails and don't click on suspicious links. This is how most banking trojans are installed.
Learn how to spot fake websites.
How Enterprises Can Protect Against Banking Trojans
Enterprises should consider implementing the following security controls based on their specific circumstances: