Introduction
Welcome to the 2021 Application Protection Report. Now in its fourth year, this is the latest installment in F5's effort to summarize the application security risk landscape into perspectives and recommendations that put the initiative back into the hands of defenders.
The information security professional's mission has gradually become extraordinarily complex. At times, this mission borders on contradiction. Quite often, responsibility for the various components that form an enterprise environment is spread not only among multiple teams within the enterprise but also among vendors, partners, and service providers. With this diffusion of responsibility comes added challenges in visibility and incident response. The threat intelligence that the industry consumes is nearly always tactical in nature and often lacks the context necessary to place new intelligence into a coherent picture alongside existing intelligence. Large epochal events, such as the UNC 2452 state-sponsored supply-chain attack campaign against SolarWinds systems, punctuate the landscape and take up our attention for long periods.
The result is that it can be extraordinarily difficult for a given defender to know what to prioritize. Of course, the answer is that "it depends," but on what, precisely? How do the different determinants of that dependency interact over time, space, and variance across environments? We admit that we don't have concise or definitive answers to these questions. What we do have is diverse and complementary data, paired with the experience and perspectives of industry veterans. With these in hand, we endeavor to provide a framework for everyone to prioritize their work, based on where they sit in the field of targets, which we all are to our adversaries.
As we've done for the last three years, this report begins with an analysis of several hundred data breaches that occurred in the United States in the previous year. However, this year we changed our methodology a little to look at these breaches as a series of attacker techniques, as opposed to a single event type, such as phishing.
The Attack Details section provides a detailed breakdown of several prominent attack types and how they are evolving, including various forms of access attacks, the predominant web attack against ecommerce organizations known as formjacking, cloud incidents, and API attacks. We explore the outcomes of these attacks in the "Impacts" section as well as the 2020 explosion in ransomware. Finally, we conclude with recommendations for controls based on the quantitative analyses throughout the report.
Executive Summary
Ransomware grew enormously over 2020. In 2019, malware was responsible for roughly 6% of U.S. breaches. In 2020, ransomware alone was a factor in roughly 30% of U.S. breaches.

Ransomware attacks are prevalent against targets with data that are difficult to monetize, suggesting that new popularity of ransomware among attackers is due to its monetization strategy, rather than its characteristics as malware.

In 2018 and 2019, retail was by far the most heavily targeted sector. In 2020, four sectors—finance/insurance, education, health care, and professional/technical services—experienced a greater number of breaches than retail, partly driven by the growth in ransomware.

Organizations that take payment cards are heavily targeted by web-injection attacks, known as formjacking. Formjacking accounted for more than half of breaches in the retail sector, but also targeted any organization that took payment information over the web, whether it was selling a product or only taking payments.

Business email compromise (BEC) accounted for 27% of breaches. Many of these incidents lacked any other information but are suspected to be credential stuffing attacks.

The Blackbaud cloud ransomware breach caused hundreds of organizations to mail out breach notifications, illustrating that the risk of supply-chain attacks is not limited to network infrastructure like SolarWinds.1

Essentially all cloud incidents and breaches about which we have information were attributable to misconfiguration; the inconsistency of responsibility boundaries in cloud systems makes the chances of misconfiguration unacceptably high.

Two-thirds of API incidents in 2020 were attributable to either no authentication, no authorization, or failed authentication and authorization.

The simplicity of API attacks and the poor state of API security indicate that the attack surface ramifications of API-first architectures are still not widely understood.

Analyzing breaches as attack chains illustrates the importance of an overarching security strategy that implements defense in depth and a coordinated security architecture (as opposed to a series of unrelated point controls).

Based on the breach analyses, the most important controls for dealing with the threat landscape are privileged account management, network segmentation, restricting web-based content, data backup, and exploit protection (in the form of a web application firewall [WAF]).

The nature of cloud and API incidents in 2020 also illustrates the importance of inventory, configuration management, and change control.
2020 Data Breach Analysis
One of our most illuminative sources for data comes from a surprisingly simple and obvious source. Starting in 2018, we began harvesting public breach notification letters from U.S. state attorneys general. Individually, these letters often lack important details about tactics, techniques, and procedures (TTPs). Figure 1 shows a sample breach notification from this year. Note the details about remote desktop protocol, the strain of ransomware, and using stolen credentials to attack the VPN. This was actually the single most detailed breach notification of 2020. While we wish they were all this good, many contain information only about the impact (such as email compromise), and some contain no useable information at all. Collectively, however, they still represent a useful data source, for several reasons. All of these notifications represent events in which the defenders knew, or had to assume, that the attackers gained access to sensitive information. In other words, these were successful attacks, not just exploits of a vulnerability with an unknown impact. This makes these incidents particularly instructive because we know the impact; these are the events that result in losses for companies.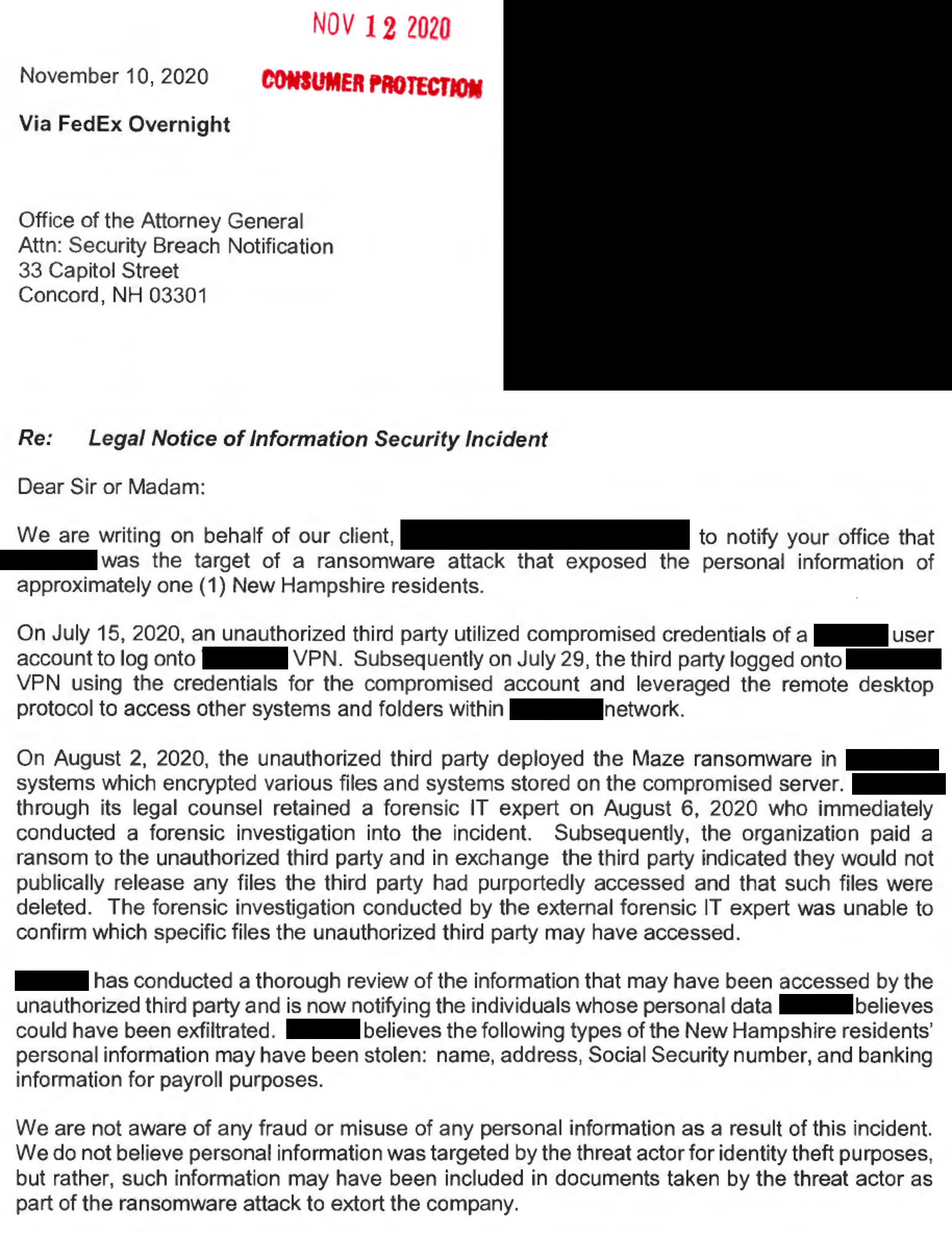 Another strength about this data set is the nature of the sampling. Because we gathered these notifications at the state level, they are less likely to reflect any kind of bias in terms of target or vector, and provide some degree of random sampling with respect to target organizations and technology stacks.
Finally, in aggregate, these notifications also offer us a decent, if not amazing, sample size. We do not, unfortunately, have access to the tens of thousands of detailed incident reports that some in our field have, but the breach notifications provide a large enough sample that we can draw some meaningful conclusions and make some recommendations based on the information they contain. In 2019, we analyzed 762 distinct breaches from 2018; in 2020 we analyzed 1,025 distinct incidents from 2019. This year, due to external constraints that cut short our research time, we captured information for 729 incidents from 2020, primarily from the states of California and New Hampshire. These two states have comparatively strong reporting requirements and therefore some of the larger sets of breach notifications.
Methodology
This year, we changed our analysis methodology. In the past, we relied on an internally-developed model for application risk assessment that focused on growing complexity of modern applications, and the effect this complexity has on attack vectors. However, this year we decided to change the model, for two reasons. We wanted the ability to capture and re-create breaches as attack chains instead of as single-point failures. This is partly due to the surge in malware, specifically ransomware (discussed later), because malware is increasingly important but always relies on some kind of delivery vector. Capturing and communicating the reality of what we saw demanded a different model.
The other reason we changed models was to make it easier for us to communicate findings with other researchers and security operators using a shared lexicon. F5 Labs often laments the lack of cooperation and transparency in our field, so to put our money where our mouth is, we structured our work to be more immediately digestible by our peers.
The upshot was that we settled on the MITRE ATT&CK® framework.2 The ATT&CK framework can be bewildering at first and requires some familiarity before it can become useful, but what it lacks in intuitiveness it makes up for with rigor. It is the model that does the best job of expressing how procedures ladder up to techniques, techniques to tactics, and tactics to goals.3 This taxonomy between what an attacker is trying to accomplish (tactic) and how they accomplish it (technique) is important for taking advantage of ATT&CK's strengths, and this distinction will feature prominently in our attack chain analysis.
Also of note is that, for this year's report, we shifted our sector model to match the U.S. Census Bureau's North American Industry Classification System (NAICS).4 While this made it more difficult to compare trends with the previous years, it minimized judgment calls on our part in terms of how to categorize organizations.
Initial Findings
Before we launch into the attack chain analysis, let's review some of the basic contours of the breach data we collected. Twenty-seven percent of the incidents we looked at involved some kind of BEC. Most of the time, the notification contained little additional information about these events, so all we know is that email is a big target—not how it's being targeted. Phishing was less frequent than in the 2019 breaches, at 8% of incidents. Sixteen percent of incidents involved a web exploit, and 24% involved data loss by a third party (almost all of which came from one incident—more on that later). Interestingly, ransomware events shot up to 31% of incidents, up from 6% for all malware in 2019. This is a huge change in a short period of time. The explosion of ransomware in 2020, as shown in Figure 2, is discussed later in this report.
Cloud events were quite common, but not necessarily because a lot of cloud breaches occurred. In reality, of the 729 events we looked at in the data set, only 11 were cloud breaches, but several of them were third-party breaches, which generated a large number of notifications. Finally, mobile breaches were quite rare in our data; only one incident we looked at was a mobile breach (0.1% of total).
We also captured the breach causes using the previous application tiers model so that we could compare findings with previous years (see Figure 3). Here we started to see a transformation in terms of attacker techniques. Between 2006 and 2017, web exploits were the predominant cause of data breaches, followed by access breaches (credential stuffing, brute force, phishing, and other social engineering). From 2018 to 2019, access breaches were by far the most prevalent breach cause we encountered, and web exploits became less common. By 2020, access breaches remained the most prevalent, at 34%, but were less dominant than in the previous two years. Web exploits constituted roughly the same proportion of known breach causes, but both malware events and third-party compromises exploded in frequency. In fact, the vast majority of third-party compromises in this data set came from a single ransomware event at Blackbaud, a third-party cloud-storage provider, which resulted in all of its customers sending out notifications to all of their customers. In other words, between the third-party ransomware and the regular kind, ransomware went from being a relatively uncommon tactic to the single most common type of event in one year, at 30% of incidents. Of course, the ransomware needs to be deployed inside an environment, which raises questions about how it got there in the first place. We explore this further in the "Attack Chain Analysis" section.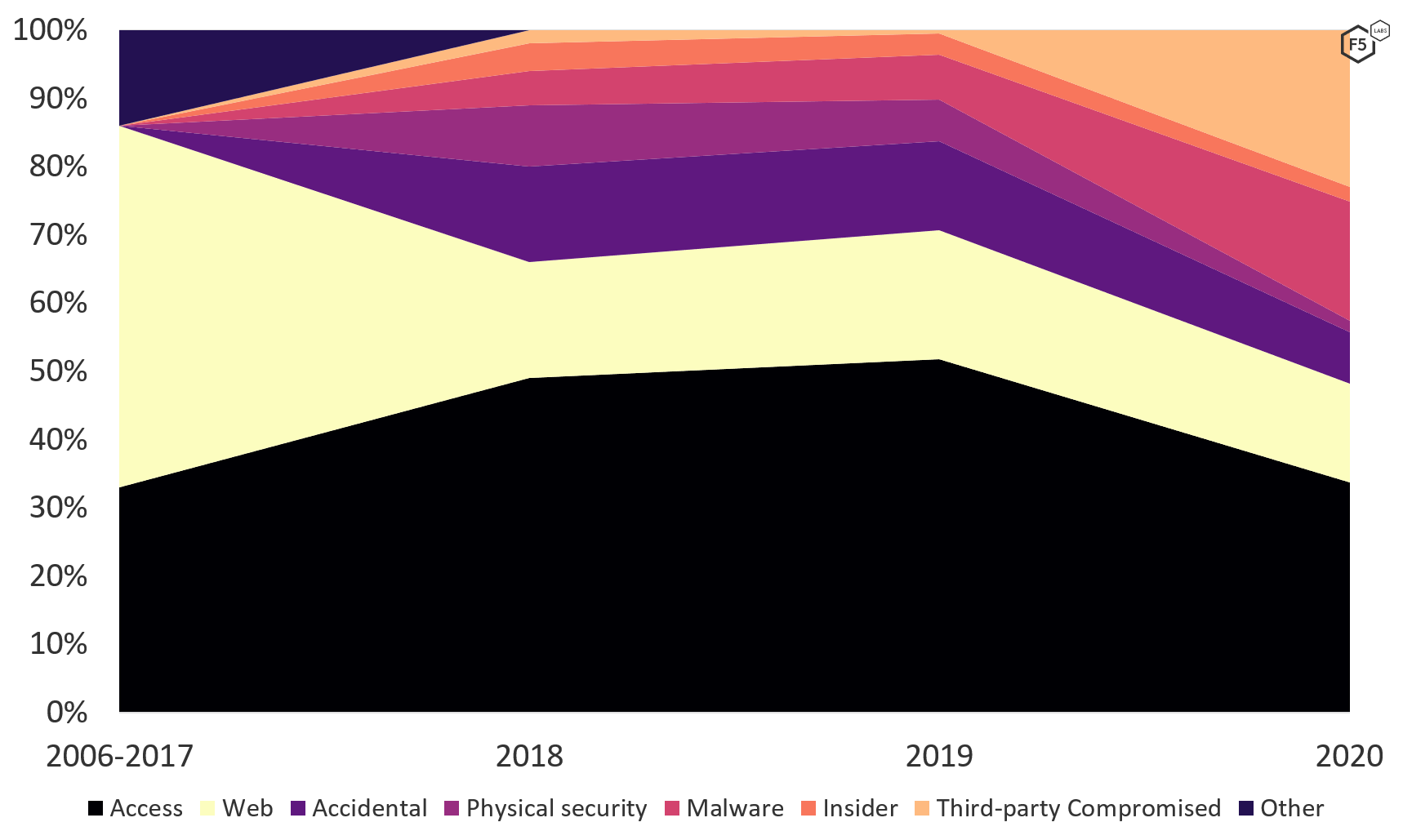 Findings by Sector
Sector analyses are a standard in the cybersecurity community. Over the last several years, however, we have gradually come to the position that sectors are no longer a good predictor of information risk, except where they map tightly to regulatory risk, as in the case of the Payment Card Industry Data Security Standard (PCI DSS). The 2020 Application Protection Report, as well as research from other organizations, has demonstrated that what attackers care about is target parameters, that is, the kind of system running and the kind of data stored on that system. At one time, sectors may have been a good predictor of these target parameters, but as digital transformation drives enterprise environments to look similar, and simultaneously, more organizations that might have considered themselves manufacturers or wholesale merchants look to implement ecommerce platforms and sell direct to consumers, this is no longer the case. This is the basis for our growing sense that that if you act like retail, you'll get attacked like retail.
Nevertheless, it is still valuable to look at sectors when we analyze data breaches, both to look for new patterns and to observe changes in patterns we already understand. Sometimes, transformations in old patterns—such as the prevalence of web exploits against ecommerce platforms—can indicate changes in tech stacks or architectural trends that we might not otherwise detect.
As noted in the "Methodology" section, we changed our model for sectors this year, so comparing with previous years isn't straightforward. It is clear, however, that a transformation has occurred in terms of attacker targeting, as shown in Figure 4. From 2018 to 2019, the retail sector was by far the most heavily targeted sector, constituting more than 60% of the breaches in 2019 and just under 50% in 2018. In 2020, three sectors that had historically experienced a lot of breaches—finance and insurance, educational services, and health care and social assistance—were hit harder than retail, as was the sector that represents a bit of a hodgepodge, professional, scientific, and technical services. This sector includes law firms, accountants, and consultants of all stripes as well as a range of other organizations, such as technical services for heavy industry, that we might not instinctively lump together.
The growth in breaches in these sectors became a little clearer when we examined the causes of breaches by sector (see Figure 5).5 The three most prevalent sectors all had a significant number of notifications that were actually breaches of third-party vendors, and the vast majority of the notifications that fit this category all boiled down to that same single Blackbaud ransomware event. In contrast, the large number of ransomware attacks represented in the malware category were more or less evenly distributed across sectors. The implication here is that the Blackbaud event that made up the huge number of third-party data breach notifications was masking the fact that ransomware had become a risk to essentially any organization. We'll discuss the impact of ransomware and what this trend represents in greater detail in the "Ransomware Comes of Age" section.
Looking past the third-party ransomware notifications and the explosive growth in ransomware, the pattern that emerged over the last two years has morphed slightly. In 2018, data breaches bifurcated into two clusters of correlated targets and vectors: in one cluster, any organization that participated in ecommerce operations and took payment cards over the Internet, irrespective of declared sector, was subject to a specific subtype of web-injection attack known as formjacking. The other pattern we observed was that nearly all non-ecommerce organizations were targeted primarily with access attacks, particularly credential stuffing and phishing. This pattern reflects the fact that the most valuable information for non-ecommerce organizations isn't constantly traversing the perimeter but sits either in hardened databases or in decidedly unhardened email inboxes.
This bifurcation of breaches into two modes, determined by the kind of data the target has rather than by industry, became even clearer in 2019. The massively successful campaign in 2019 against the specialized university ecommerce platform PrismRBS exemplified the trend, as at least 201 universities had customer payment cards compromised in this way.6 In fact, in 2019, 82% of the breaches in the retail sector came from web exploits, and 87% of those web exploits were formjacking attacks. At the same time, subsectors like accounting and law firms were disproportionately targeted through access attacks.
For breaches in 2020, this bifurcation still holds, but with some modifications and caveats. The first is that formjacking attacks have continued to spread to include other niches that take payment cards. The best example of this was the trend of professional organizations and trade unions being hit with formjacking in their membership renewal systems which, predictably, accept payment cards. This niche is represented in the number of web exploits represented in the Other Services sector. At the same time, the retail industry was less exclusively targeted by formjacking compared with previous years. Access attacks and ransomware also hit the retail sector.
A heavily exploited vulnerability was seen in an e-learning platform, the Aeries Student Information System, that contributed to a large number of web breaches in the education sector, mostly from California secondary schools. This campaign, which contradicts the overall trend of web exploits targeting financial information, illustrates the importance of vulnerability management and software testing across the board—no matter how strong a targeting pattern might seem, if we present easy targets, they will be attacked sooner rather than later.
Overall, it appears that access breaches constitute a smaller proportion of the breach landscape than they have in the past, but this is partly so only because of the limitations of reducing a breach to a single event such as ransomware; the small amount of information about any given attack adds uncertainty as well. To understand how the growth in ransomware tactics relates to existing entrenched tactics, we have to understand attacks as a sequence of steps and not as single-point events.
Attack Chain Analysis
As noted in the "Methodology" section, in re-creating the attack chains based on information from the breach disclosures, we had to adapt the ATT&CK methodology a bit (see Figure 6). We expanded the model, adding nontechnical events like misconfigurations, physical theft, and third-party data loss to capture the full spectrum of what came from the disclosures.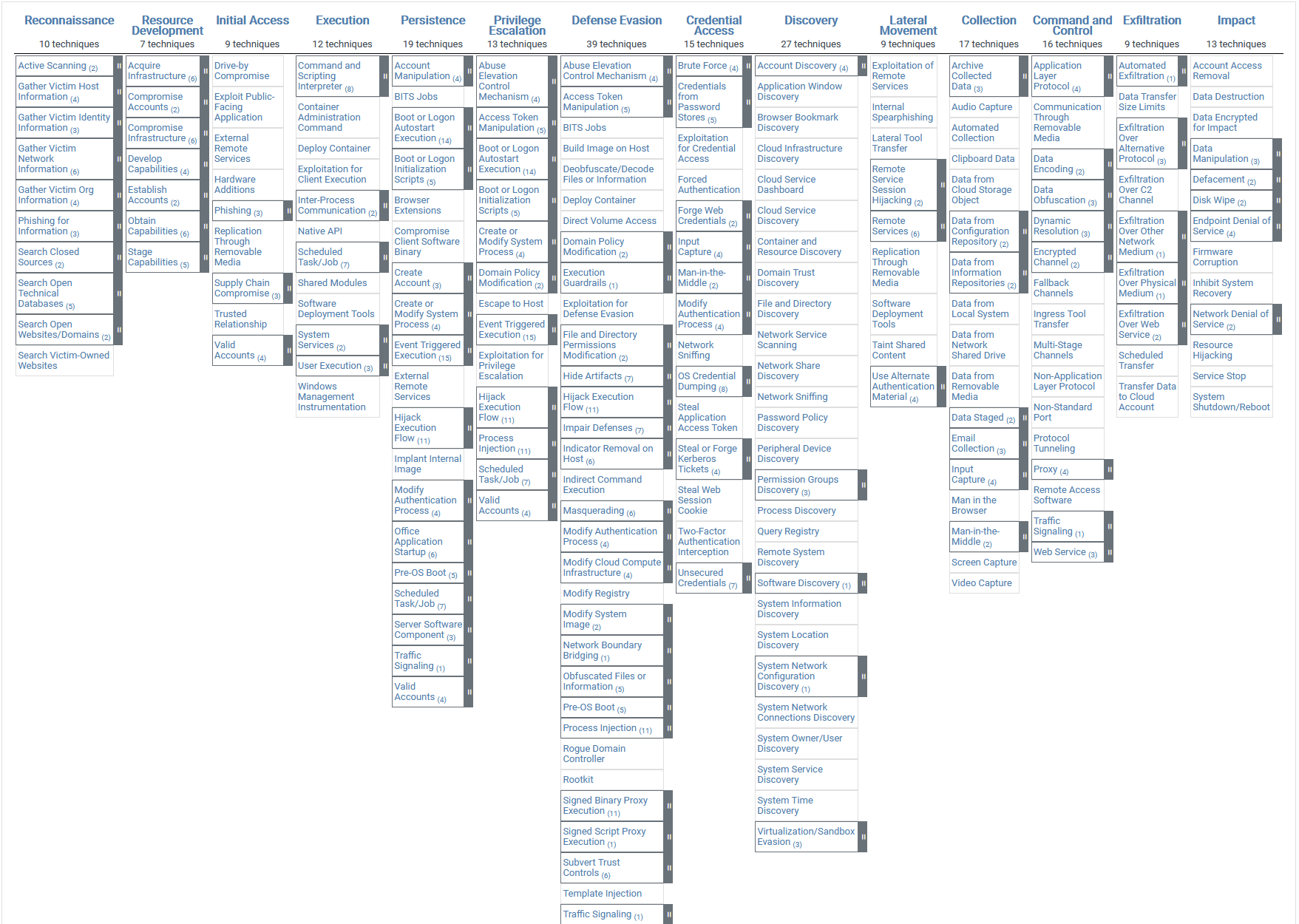 We also had to leave specific stages empty when we knew that an attacker had accomplished a tactic (such as initial access or credential access) but didn't know what the subordinate technique was. Finally, for some events we only had information for one or two stages in the attack chain. In these cases, we mapped the flow of tactics to the End of the chain, even though there were probably other actions that either the forensic analysts couldn't re-create or the organizations didn't reveal.
These compromises mean that our model was not as strong as the core ATT&CK framework for tracing a single event from start to finish, but in return we gained the ability to map the entire breach landscape in a single form, as shown in Figure 7.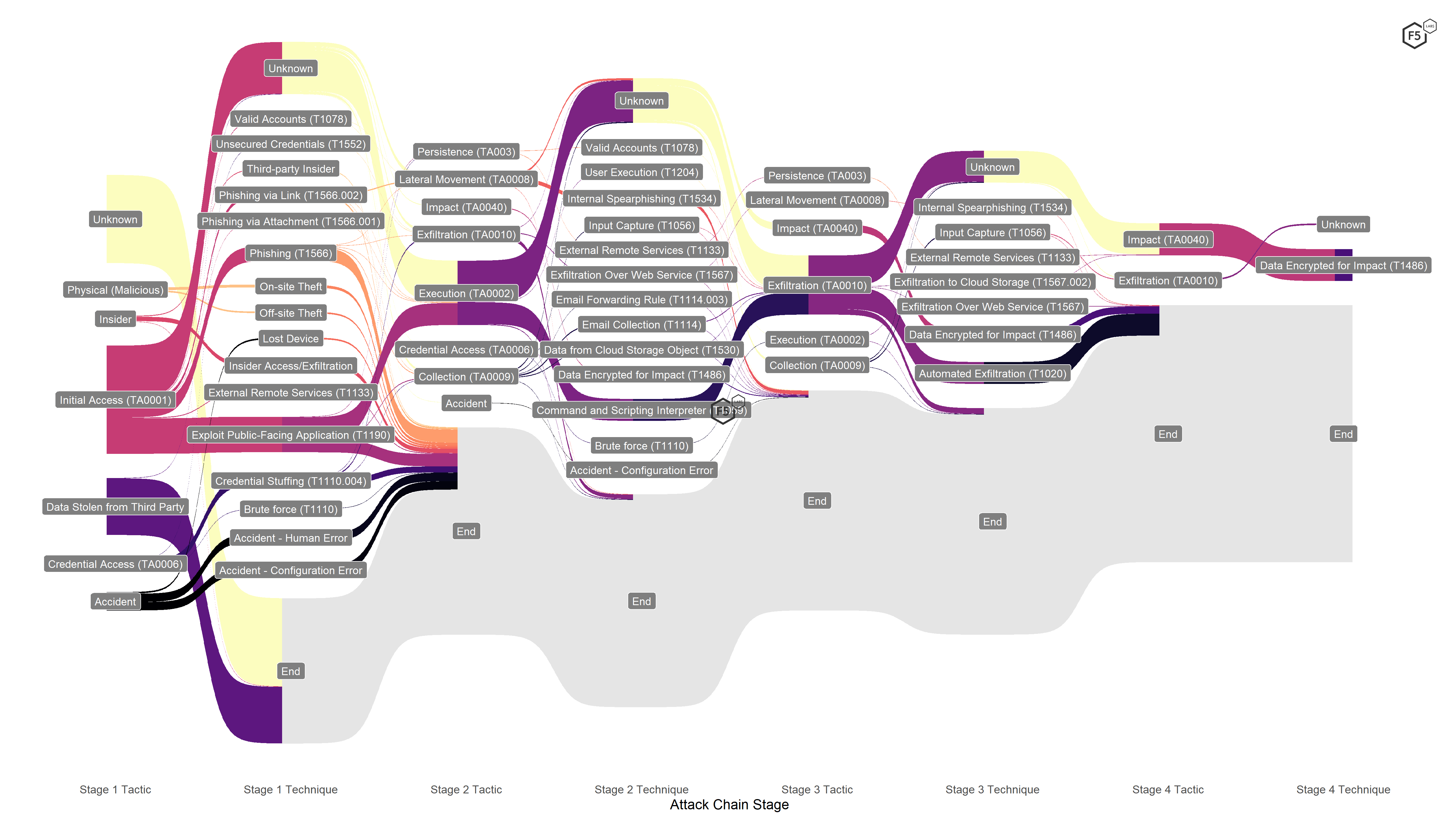 Note the large number of events that start with Unknown or terminate in End. At this level, it was difficult to draw significant conclusions from the visualization unless we pared some noise back. The most obvious thing we could conclude from this view was that the breach notifications often lacked substantive information. We already knew that, but visualizing the volume of events that either terminated for lack of information or had unknown techniques connecting tactics (such as between Initial Access and Execution) also showed how much further we can go as an industry in terms of sharing information in a way that might not be harmful to the victim but still be helpful to other defenders.
There were also 142 events whose primary cause was Data Stolen from Third Party, after which the attack chain terminated. These entries signify events in which the platform housing the data and associated controls was under the control of a vendor, but the data was still the responsibility of the entity doing the notifying. Out of the 142 events like this, 117 were associated with the Blackbaud ransomware event, which we explore in the "Blackbaud" sidebar. The remainder of third-party data-loss events in our data set came from a compromise of Equifax's PaperlessPay payroll outsourcing solution, a number of outsourced storage solutions, and one event in which a vendor had an insider breach, with an employee exfiltrating sensitive information about its customers' customers.